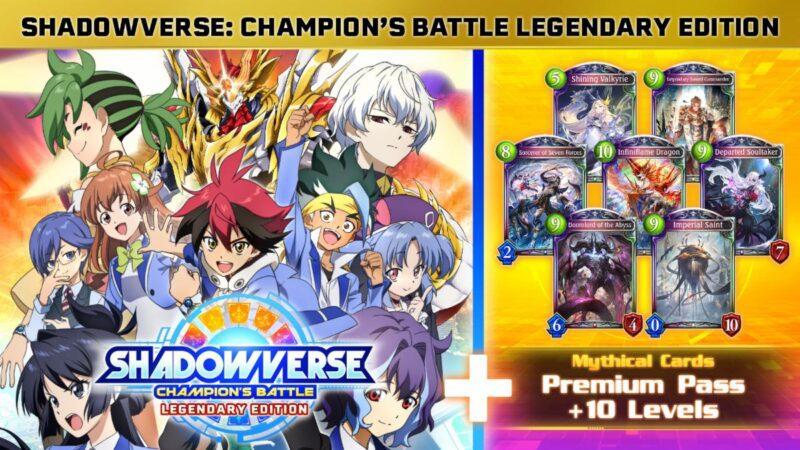 Champion's Battle Legendary Edition on Nintendo Switch
XSEED sent the following
………………………
XSEED Games, the independent publishing brand of Marvelous USA, Inc., today released Shadowverse: Champion's Battle Legendary Edition, a special bundle containing the strategic card battle game and "Mythical Cards Premium Pass + 10 DLC Levels", digitally on Nintendo eShop for $29.99. The "Mythical Cards Premium Pass +10 Levels" DLC allows players to unlock Mythic Cards, Card Sleeves, Rubies, and more as they level up their Battle Pass. The DLC also instantly grants players 10 tiers towards the Mythical Cards Premium Pass.
In Shadowverse: Champion's Battle, players take on the role of a transfer student at Tensei Academy, where they are quickly introduced to the Shadowverse card game by their classmate, Hiro Ryugasaki. The new friends team up with Shadowverse club president (and only member) Rei on a quest to master the popular card battle game and protect the club from the threat of disbandment by winning the national championship. Throughout their adventures, players will be able to explore unique locations around the school and surrounding town, where events and encounters await them in least expected places. Team up with new friends, fight to become National Champions, and avoid the Shadowverse Club shutdown!
Shadowverse: Champion's Battle Legendary Edition Key Features:
Intensified experience for Nintendo Switch – New maps and deluxe battle animations unique to the Nintendo Switch version amp up the excitement for veterans and new players alike!
Electrifying One-on-One Card Battles – Use three types of cards to strategize and aim for victory. Become a master by skillfully playing cards, each with their own abilities, at the right time.
Build the Ultimate Deck – Build decks from seven different classes, each with their own unique strengths, cards, and abilities. With over 600 cards to collect, the possibilities are endless.
Play with friends or take on the world – Enjoy ranked matches, free matches, or lobby matches, and even get new cards and redeem deck codes in online play. Players can also challenge their friends with wireless local play.
A Colorful Cast of Characters – Meet familiar faces from the Shadowverse anime, as well as all-new characters! Players will deepen their connection with their friends by completing quests and enjoying student life.
Developed by Cygames and published by XSEED Games in North America on the Nintendo Switch™ console, Shadowverse: Champion's Battle Legendary Edition launched on August 9, 2022. The game was also released by publisher Marvelous Europe in Europe on August 9 2022. The title was rated "T for Teen" on the Nintendo Switch™ system by the ESRB.
For more information on XSEED Games products, visit www.xseedgames.com. Fans can also follow XSEED Games on Facebook, Twitter, Instagram, Twitch, get detailed information on their developer blog and join the discussion on their Discord server at: http://discord.gg/XSEEDGames.
……………………………..
Are you going to play?