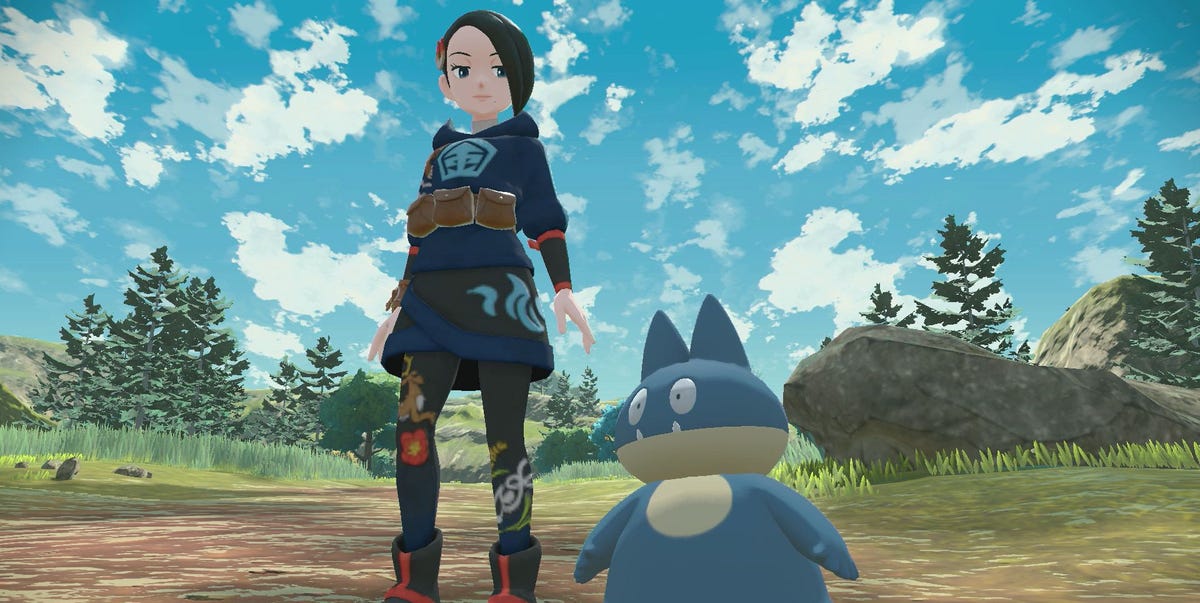 Pokemon Legends Arceus | Best pre-order deals on Nintendo Switch
Prepare to catch, investigate, and search for wild Pokémon in Nintendo's latest sprawling action-RPG – Pokemon Legends: Arceus is the next big entry in the monster-catching franchise and it's releasing on January 28th exclusively on Nintendo Switch.
Your role is to build the first-ever Pokédex in the vast region of Hisui, where people and Pokémon rarely live together – the game is set long before the events of previous games. Pokémon Diamond and Pearl, and long before things like Pokémon Trainers and Pokémon Leagues existed.
You'll encounter new and familiar Pokémon as you explore the vast land, navigate through lush forests, snow-capped mountains, deep swamps, and more, all while finding the best way to catch Pokémon in the wild, whether by throwing a Poké Ball into battle with them, or observing them from a distance and sneaking into their habitat.
Developer Game Freak is taking a new approach to Pokemon games with this release, because it's a great open-world adventure that lets you catch Pokémon in different ways and do various things in the world, like crafting, driving, and using Pokemon to roll and fly around the map.
Pokemon Legends: Arceus releases on Nintendo Switch on friday january 28, and we've rounded up the best prices.
The best Pokemon Legends: Arceus pre-order offers
The cheapest price at the time of writing is at Currys with a promo code – the game is currently listed at £44.99 but if you use the code ARCEUS15 at checkout you'll get 15% off making it a great deal £38.24.
The Game Collection offers a bundle that includes a bonus Steelbook and sticker sheet, while GAME includes the Steelbook. Amazon sells a version that includes the Steelbook and a cartridge holder in the shape of a Poké Ball – it's sold out at the time of writing, but worth checking to see if it's in stock if you want the extras.
Currys – £38.24 (Use Promo Code ARCEUS15 at the register)
ShopTo – £39.85
The Game Collection – £42.95 (includes Steelbook + sticker sheet)
Base – £42.85
Nintendo Shop – £49.99
Amazon – €44.99
GAME – £49.99 (Includes Steelbook)
Boss Deals eBay Store – £46.85
Very – £44.99
Argos – €49.99
The best Pokemon Legends: Arceus Digital Download Code eShop pre-order offers
If you'd rather own the game digitally than have the physical copy of the boxed cartridge, we've rounded up where you can buy Nintendo eShop codes for download.
Nintendo Shop – £49.99
Amazon – €49.99
Arceus was announced as part of Pokémon's 25th anniversary, with Pokémon Shining Diamond and Pokémon Shining Pearl which came out last year.
Nintendo has also released a Nintendo Switch Lite designed by Pokémon Dialga & Palkia which features special art design and is available in The Game Collection for £209.95. It is also sold on Amazon, ShopTo and GAME but may be out of stock due to limited availability.
Other releases to celebrate the anniversary included a Pokémon card collector's box, a die-cast Poké Ball replica, and a fashion range.
Pokemon Legends: Arceus releases January 28 exclusively on Nintendo Switch.
This content is created and maintained by a third party, and uploaded to this page to help users provide their email addresses. You may be able to find more information about this and similar content on piano.io