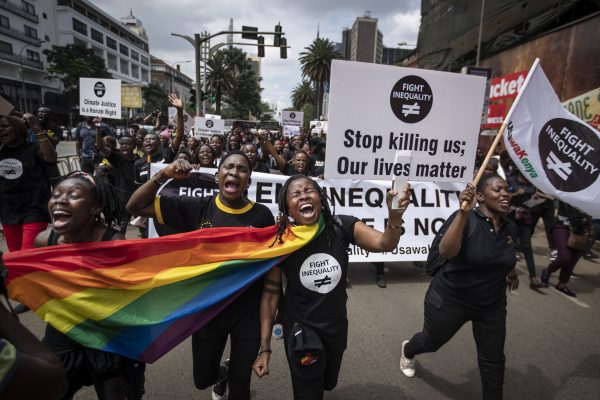 China and the COVID-19 debt squeeze – The Diplomat
Is China Relief the Answer to COVID-19 Debt Problems?
In this file photo from Friday, Jan. 17, 2020, protesters calling for an end to the "age of greed" march towards the president's office in downtown Nairobi, Kenya.
Credit: AP Photo/Ben Curtis, File
"It's like they're grabbing you by the neck and slamming your back against the wall," the ambassador said.
We had a fairly candid discussion about negotiations with a lender about his country's debt level, a country that had, at that time, taken on debt all over the world – the private sector through Eurobonds, multilateral lenders, as well as bilateral lenders and China, too. And I understood. This fear of being helpless, unable to move, is what worries a number of politicians, government officials and diplomats around the world right now, as the COVID-19 pandemic spreads.
Opinion makers, experts and journalists use terms such as debt crisis, debt diplomacy, debt relief, debt forgiveness and debt moratoriums. Countries with so-called "debt problems" are downgraded by rating agencies. In February 2020, even before revising global growth forecasts due to COVID-19, the International Monetary Fund (IMF) classified half of the world's low-income countries (LICs) as already "in debt distress" or at high risk of becoming so. There have been specific calls for China, as a lender that would play a huge role in the debt position of many countries, to cancel or at least suspend debt repayment demands.
Are these concerns supported by facts? And what is the solution for Asian, African and other developing countries, including those that are part of China's Belt and Road Initiative (BRI)?
Of all the solutions discussed so far, including those considered quite drastic, none solves the fundamental problem of powerlessness that the Ambassador shared in our candid conversation years ago.
The right solution is to reinvent the debt system so that borrowers "regroup".
Most poor countries are indebted to others – and should be
I am loath to use the analogy of the indebted individual to extrapolate to the level of a country, but in order to explain the complexities generated by the COVID-19 crisis for indebted countries, I think it might be useful.
The majority of people around the world are in debt, from microloans to mortgages. The same is true for most governments. Governments rich and poor, on behalf of their citizens, are in debt. For most wealthy country governments, their debt is often borrowed from within their own country – their own central banks or their own private banks. But for most governments in poor countries, the debt has been lent to them from external sources – from other governments and multilateral organizations, as well as from private lenders.
Why do they need to go into debt? Just as individuals often fail to pay up front for their college education (student loans), a new business, or even a new home (mortgage), governments often need to run up debt to pay for roads, trains, new housing projects or to invest in the quality of their education or health system. The African Development Bank has estimated that African countries cannot raise taxes or other funds domestically for basic infrastructure needs valued at more than $68 billion a year, let alone all the others. basic needs of their citizens. Asia is better placed, but still has large financing gaps, estimated at $141 billion a year.
China is already filling part of this void.